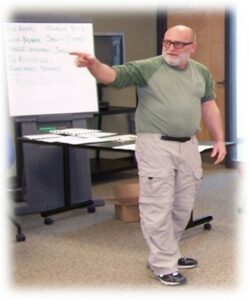 The SCM Instructor Certification Training Program is a rigorous, five-day learning experience where participants learn prevention, intervention and after-action strategies that are the core of SCM.  Participants will be exposed to a variety of supportive information and concepts central to providing instruction in SCM.  Participants will receive an Instructor's Manual that provides a model curriculum for SCM Staff Training.  In addition, participants will be granted access to our online Instructor's Library which contains files to download such as:  slideshows, an emergency safety physical intervention videos, training agendas, case studies, various templates, handouts, sample tests and so much more!  This program certifies successful participants as SCM Instructors for their organization/school.  SCM Instructors are required to attend an SCM Instructor Recertification Training Program on an annual basis.  Both of these Instructor Programs are offered as public or onsite training programs.
Don't wait any longer…call us today and become an SCM Certified Instructor!
Public Seminars:  $1849/person – Register 3 or more and save!  Only $1549/person.  To register for a public seminar, please click here and find a location near you!
Onsite Training:  For a free price quote to bring this program directly to your organization/school – please click here and fill out your information.
What Will Participants Learn At This Program?  They will be able to…
Identify the components of a well-organized service delivery program, understand the importance of providing structure and how to use positive strategies to build relationships.
Utilize individual and group assessments to better understand the behaviors and needs of individuals in care.
Identify the phases of crisis events, know where staff should intervene and how to use appropriate and effective intervention strategies.
Identify the nature, dynamics and categories of challenging behaviors and reduce their frequency.
Articulate, create and use the elements of function-based behavior support planning.
Identify counter aggressive tendencies and learn how to control them.
Use non-verbal, para verbal and verbal intervention techniques in order to direct behaviors and assist individuals in regaining emotional control.
Promote safety when a situation is critical and emergency safety physical interventions become necessary.  If such an emergency arises, SCM provides an integrated and flexible system of emergency safety interventions, which can be taught in part or in total according to need.  SCM techniques have been medically reviewed, approved and have no pressure on critical body parts.  Participants will learn these various emergency safety physical intervention techniques in order to provide staff with a response capacity to meet the unique differences that exist in real life situations.  In addition, participants will be able to list and define the safety areas associated with monitoring emergency safety physical interventions.
Use proper documentation and post intervention debriefing techniques for individuals/students and staff.
Address the issues organizations must consider when introducing SCM including:  crisis intervention policies, training policies, supervision policies, documentation policies and evaluation policies.
How to teach the Safe Crisis Management Program to staff at their organization/school.
Not Sure Yet…4 More Reasons to Attend
Safety!    Your staff are charged with a care taking responsibility.  As such, they assume the natural role of safeguarding the individuals in their care.  The need for safety requires that all staff must be trained!
The Reality!    The unfortunate reality of individuals being served today is that they sometimes present volatile and challenging behaviors.  This requires that all staff be trained to deal with these behaviors!
Liability!    Supreme Court decision Canton v. Harris verifies the affirmative responsibility of organizations to train staff in areas of duty in which they are expected to perform.  This decision clearly establishes the liability organizations face by failing to train their staff.  If intervening with challenging behavior by individuals is a performance duty, then training for that duty is required.  Save yourself and your organization!
Professionalism!    Professional practice in education and social service care requires the practitioner to operate with skills that are based upon the most contemporary information possible.  SCM is a state-of-the-art intervention program.   It's comprehensive.   It's based on proven intervention principles. It's compatible with professional standards and legal requirements.  It's continuously updated to reflect changes in the field.  SCM meets the requirement of professionalism!
Suggested Criteria for Safe Crisis Management Instructors

Selecting candidates for the Safe Crisis Management® Instructor Certification training program is critical to the overall success SCM can have for your school or organization.  Below is a list of suggested criteria that can be used when selecting prospective staff.  Select individuals…
With an employment history that demonstrates philosophical consistency the SCM program (The 5 C's – Caring, Commitment, Courage, Consistency & Competence).
Who are bonded with their career and your school/organization's mission.
Who are professionally respected by their peers.
Who have demonstrated competence in their ability to deliver a professional presentation (must be able to articulate and deliver with enthusiasm).
Who have a working knowledge of human development and human behavior dynamics.
Who are capable of demonstrating the emergency safety physical intervention skills involved in the SCM curriculum. The ability to demonstrate these skills requires reasonable physical coordination and fitness. The skills require balanced physical movement, holding and the ability to support the weight of an individual while moving (kneeling) to the ground and a capacity to sit and kneel in various positions on the ground.
Who have demonstrated competence in using electronic equipment for education/training, e.g. (computer, LCD projectors, white boards, etc.).
With a capacity to provide clearly written documents.
The above criteria are not all inclusive. Most fundamental to the selection is identifying individuals that embrace the SCM philosophy. These are individuals who care about the students or clients that are served by your school/organization.